13 Years of the Undergraduate Research Symposium
3,840
undergraduates participated 
1,043
research mentors supported students
89
different majors represented 
Explore Your Interests
Participation in the Undergraduate Research Symposium empowers undergraduates to share their ideas, discoveries, and artistic work with the campus and the local community. The event traditionally takes place in the EMU in the style of an academic conference and includes all types of academic research, allowing you to present your work through a poster, oral presentation, data story, or in a performance.
An inside look into the Symposium...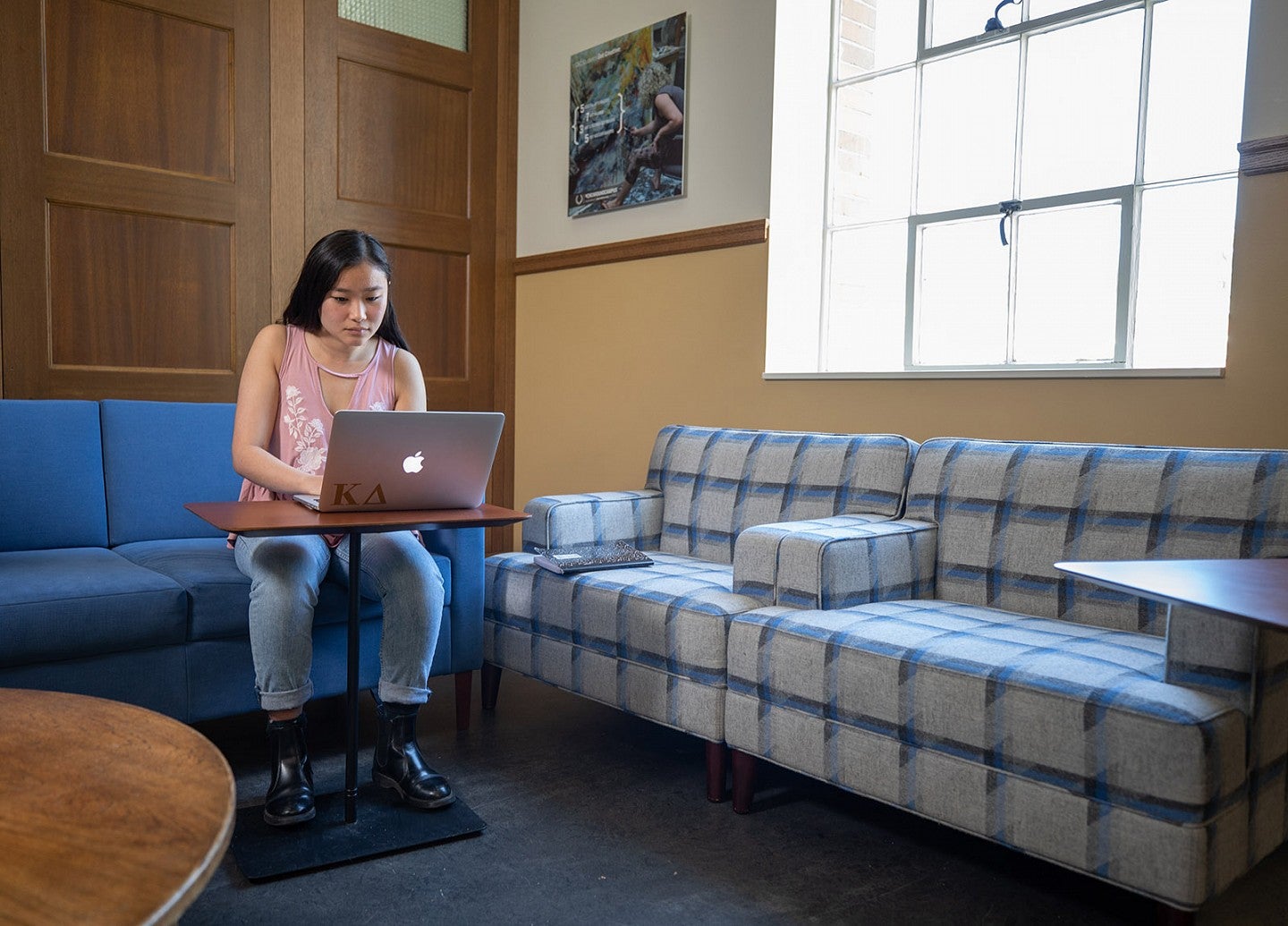 Inspired to Give Back
One of last year's researchers is back this year, not only with her research, but to help others succeed.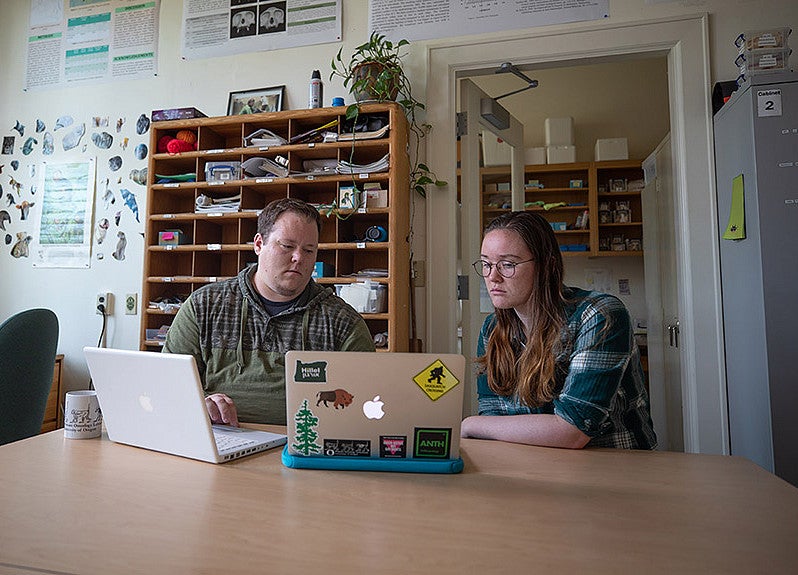 Research helped me...
Mat Wilson's student research journey fueled his post-graduate career decisions.
Benefits of participating in the Symposium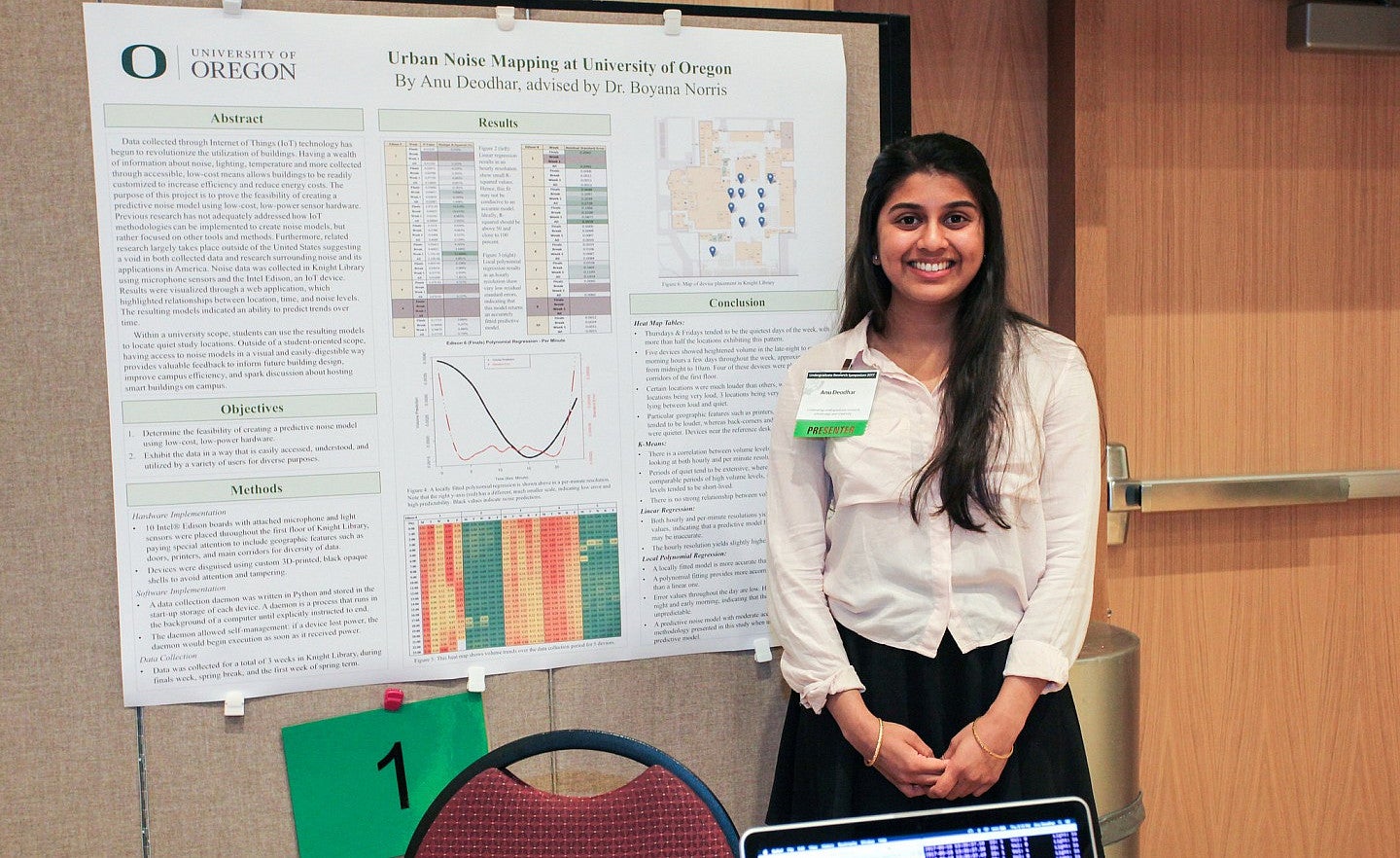 It helps you get involved on campus and connected to the university

It provides an automatic introduction to friends and classmates

The experience helps confirm if you're pursuing the right career path, ​or helps you discover a new career path you may not have considered before

The process develops real-world, transferable skills that you can use on the job, including advanced problem-solving skills and career-specific behaviors and activities

It gives you an advantage when applying for scholarships or graduate school

You connect with a faculty member that you might not get to know and learn from otherwise

It presents the opportunity to study something you're passionate about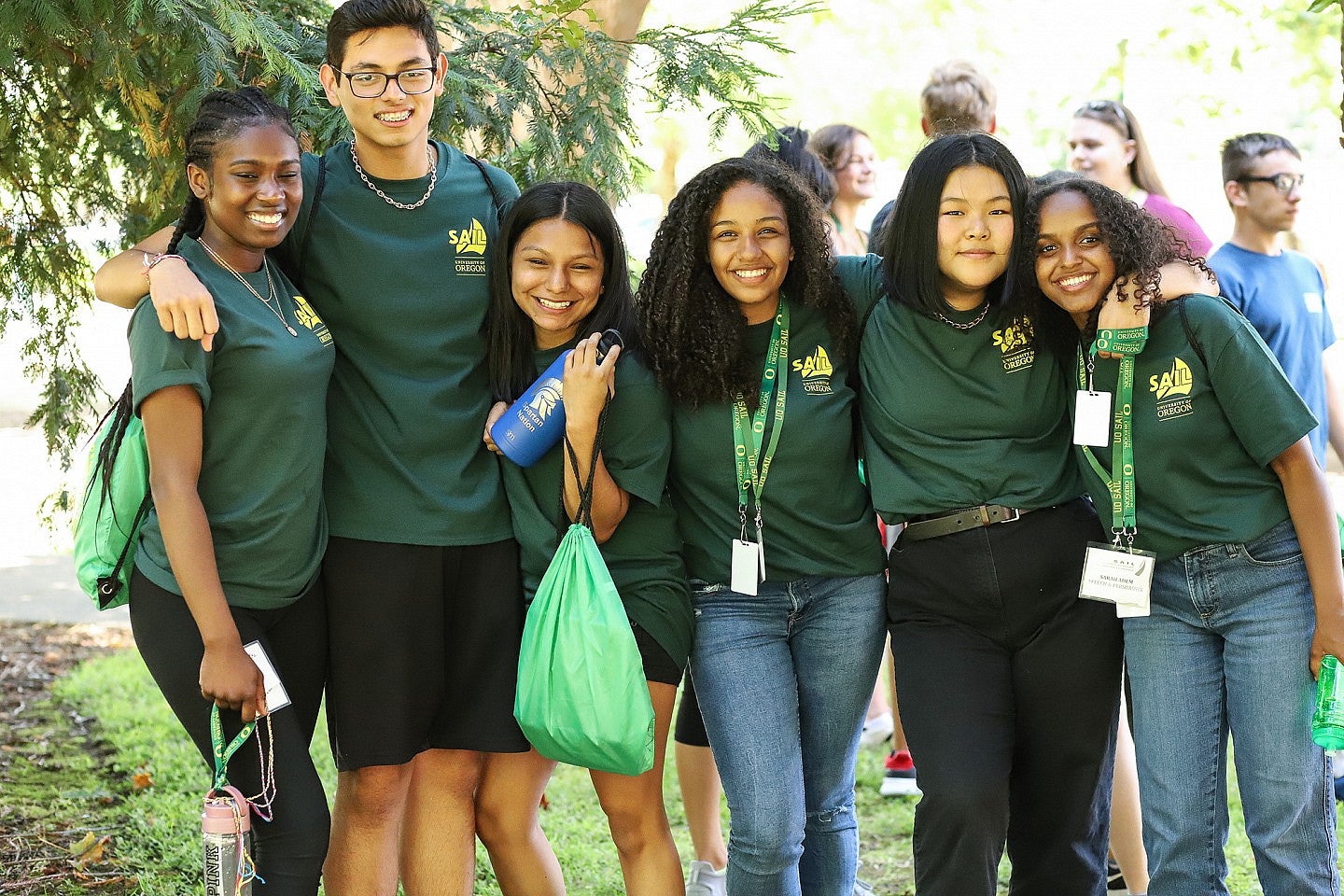 Pre-college Partnership with SAIL Program
Each year, the symposium welcomes high school students from the Student Academy to Inspire Learning (SAIL) pre-college program for an immersive day on campus. Students will spend a day with current UO students learning about different college majors, college research projects, and the college experience first-hand.
About the Symposium
►  MEET THE PLANNING COMMITTTEE
The UO Undergraduate Research Symposium celebrates the remarkable contributions our undergraduates make to research and creative work across the disciplines in the humanities, sciences, arts, and social sciences. As a top-tier research institution, discovery and inquiry underlie everything we do. Part of our mission is to help individuals question critically, think logically, reason effectively, communicate clearly, and act creatively. The symposium is an embodiment of that mission.  The symposium, chaired by Kevin Hatfield, aspires to engage undergraduates in the research enterprise of the University of Oregon by supporting the creation and dissemination of knowledge.
The symposium engages students at all stages of their undergraduate careers as attendees and presenters.  The symposium partners with Academic Residential Communities (ARCs) and First-Year Interest Groups (FIGs) to create pathways for first-year students to present their inquiry-based projects from their first-year experience seminars.  The Undergraduate Research Opportunities Program (UROP), Center for Undergraduate Research and Engagement (CURE), DucksRISE Program, McNair Scholars Program, and many other units sponsoring academic-year and summer research fellowships and internships have formally incorporated the symposium as a culminating experience for these awards.  The Symposium also provides a venue for capstone research presentations for graduating seniors completing their departmental and Clark Honors College theses.
The symposium debuted in 2011 with 69 presenters and 40 faculty mentors spanning 20 majors and four colleges, and reached a pre-COVID-19 high-water mark in size and breadth its ninth year with 513 presenters and 290 faculty mentors spanning 75 majors, 21 minor programs, 33 minors, and eight colleges. Over the past 12 years the Symposium has hosted over 3,500 student presenters.
In response to the COVID-19 pandemic the symposium shifted to a virtual platform in 2020 and 2021, allowing 667 students to continue to present their research and creative work with expanded reach to peers, families, mentors, alumni, donors, and community members. This opportunity to record these presentations catalyzed the creation of a permanent digital exhibit of UO undergraduate research on the symposium YouTube Channel, curating 400 videos comprising over 1,000 research presentations.
Despite the profound disruptions to research and creative work experienced by students and faculty over the past three years, we were inspired to celebrate the work of 327 presenters and their 253 research mentors at the 2022 symposium. The 352 presentations represented all eight colleges, the Phil and Penny Knight Campus for Accelerating Scientific Impact, 63 majors, 18 minor programs, 45 minors, and 30 institutes and centers. We also wish to acknowledge the unprecedented number of 60 graduate student mentors in 2022!
We believe that continuing to host a hybrid symposium demonstrates our institutional commitment to our undergraduate students' scholarly and creative development. To recognize the students' achievements the symposium and its campus partners co-sponsor over 60 awards totaling more than $16,000.
The symposium is privileged to partner with the Summer Academy to Inspire Learning (SAIL),which has developed a robust pre-college collaboration day, including a welcome ceremony, interactive sessions with poster presenters, lab and studio visits, campus tours, and panels with undergraduates. SAIL hosted 200 high school students and their teachers in 2022.
Our collaborations with Lane Community College and Central Oregon Community College have also culminated with the highest number of community college student presentations and visitors at the symposium to date, as well as a new series of transfer student and community college student panels facilitated by the UO Alliance for Diversity in Science and Engineering.
We welcome visitors from far and near and hope that this showcase of undergraduate research and creative work can inspire hope, curiosity, innovation, and discovery during these unprecedented times. Our 2022 recent alumni keynoter embodied this spirit. Neila "Nina"Kerkebane '20 is an alum of the UO Ronald E. McNair Scholars Program and former symposium presenter who won a National Science Foundation Graduate Research Fellowship (NSF GRFP) and is enrolled in the PhD Program in Economic and Social Policy in the Harris School of Public Policy at the University of Chicago.
The Undergraduate Research Symposium is sponsored by the Division of Undergraduate Education and Student Success, the Center for Undergraduate Research and Engagement (CURE), the Office of the Vice President for Research and Innovation, University Housing, the Robert D. Clark Honors College, the UO Libraries, and the Ronald E. McNair Scholars Program.
We wish to acknowledge the UO Libraries and Robert D. Clark Honors College for funding the cost of printing research posters for presenters. 
Questions? Please email ugresearch@uoregon.edu. For information from peers about research and how to get involved, please email ASURE at asure@uoregon.edu. 
Frequently Asked Questions                            
What is the Undergraduate Research Symposium?
The University of Oregon Undergraduate Research Symposium celebrates the remarkable contributions our undergraduates make to research and other creative work in a wide range of academic disciplines.
The symposium aspires to engage undergraduates in the research mission of the University of Oregon by supporting the creation and dissemination of knowledge, while inspiring younger undergraduates to seek out research opportunities and removing barriers to interdisciplinary education and discourse.
The symposium enables students to share their ideas, discoveries, and artistic expression with the campus and local community. The symposium invites students to select their preferred style of presentation to best accommodate their projects. Held in the EMU in the mode of an academic conference, the symposium will include poster sessions, oral presentations, data stories and exhibition space for performing and fine arts.
The Undergraduate Research Symposium debuted in 2011 with 69 presenters and 40 faculty mentors spanning 20 majors and four colleges, and in its eighth year grew to 392 presenters and 260 faculty mentors spanning 71 majors, 13 minors and eight colleges.  Over the past eight years the Symposium has hosted nearly 1600 student presenters. 
Who participates in the symposium?
The symposium is open to all UO and Oregon community college undergraduate students from across the disciplines and colleges who are presenting individual or collaborative research, creative work, or scholarship as part of course, thesis, minor/major, study abroad program or independent study overseen by a faculty mentor. The symposium is also an ideal venue for students of the performing and fine arts to share their work with a larger audience. Faculty mentors are encouraged to nominate their students to participate in symposium.
The symposium also encourages participation by student participating in First-Year Interest Groups (FIGs) and Academic Residential Communities (ARCs).
What kind of research, projects or works are accepted?
Individual and group presentations–poster, oral, creative works, and data story presentations–are welcome. The abstract submission allows teams to register multiple authors/presenters. Past presentation formats have included art installations; film screenings; science demonstrations; live dance, musical, and voice performances; poetry slams; live essay readings; and panel discussions in addition to traditional poster and oral presentations.  
Can I present ongoing research?
Yes. Posters, data stories, and talks can be presented at almost any stage of a research project, and are an excellent way to get feedback on work "in-progress." Typically, students who have been conducting research for at least two terms are well positioned to present, or those who have a course-based research project or creative work. You are encouraged to discuss your research progress with your faculty and research mentors; they should assist you in the abstract writing process.
Does my research have to be current (i.e. conducted this year)?
No.  Undergraduates may present up to two terms after their graduation.
Can I submit multiple research projects?
Yes. Please review additional submission details once they become available.  For example, many students present both poster and oral presentations in separate sessions.
What resources are there for writing/creating/formatting an abstract/presentation/poster?
There are a lot of helpful tips and tricks (abstract writing, creating a poster, preparing for the presentation) on this website. ASURE (Associated Students for Undergraduate Research) offers abstract writing workshops through winter term and the weeks leading up to the Symposium. Please send questions to asure@uoregon.edu.
Is the symposium competitive?
The symposium is inclusive and, as a whole, is not competitive. It offers an opportunity for undergraduates to come together and share their research with others in a supportive and respectful environment. However, there are award opportunities based on self-nominations.
Who can attend the symposium?
That symposium is free and open to the public, so feel free to invite any friends, family, and mentors to come view your presentation.
Are there awards for Symposium presenters?
Yes, there are numerous awards for presenters in many different categories. Please review the award descriptions and eligibility requirements on this website.
Can I volunteer at the symposium?
Yes. We welcome volunteers to moderate sessions and be involved in other ways. If you are interested in volunteering, please complete this brief sign up form. Questions can be directed to ugresearch@uoregon.edu.
Our goal is to  ensure all students are able to participate in the Undergraduate Research Symposium, There are microphones used in all presentation rooms. All presentation spaces are accessible by wheelchair. An ASL interpreter can be provided upon request. Multiple engagement options are available to presenters (different presentation formats, session types). If you would like information regarding a specific accommodation or request, please contact ugresearch@uoregon.edu and we can work to see how we might be able to accommodate other needs.