The mentor's role is vital in the undergraduate research process, and a rewarding experience. Cultivating a dynamic environment that is collaborative and productive, is a shared responsibility between the student and mentor. Setting an action plan early on that outlines the objectives, and expectations for this role will be beneficial for both student and mentor. Through this apprenticeship, the student may additionally gain valuable insight into the types of careers they may aspire to in the future.
►  Benefits of engaging undergraduate students in research
►  Post an undergraduate research opportunity
►  Discover resources for faculty mentors 
Determine what project or task that you will want the student to work on. Defining a specific role for the student will also foster agency.
Presenting clear expectations (time commitment, research schedule, and any other research protocols etc.) will establish a foundation for success.
Consider what type of training will be needed beforehand.
Start with a simple plan then scale up as the student gains more skills and confidence.
Set up a work plan with the student and involve any other individuals who will be in the mentoring and supervision role.
Establish a schedule for check-in meetings to ensure that all is on track.
Encourage professional skill building by including  the student in team meetings, journal clubs, research presentation opportunities.
Train student on any necessary protocols and procedures that is associated with the research work.
Provide productive feed-back and recommendations, and opportunity for the student to self-reflect about their experience and goals.
Encourage attendance at departmental seminars and campus talks to help foster learning, understanding (and appreciation) of the work on a larger scale.
Support involvement with the Undergraduate Research Symposium where they may showcase their work to peers, and greater UO community.
Attendance at local meetings or national conferences are valuable opportunities to expand the student's knowledge of the field and beyond, as well as provide exposure to potential graduate programs.
Check-in not only about the research progress, but also regarding their academic coursework and other campus commitments.
Serve as role model for academic and professional conduct.
Benefits of engaging undergraduate students in research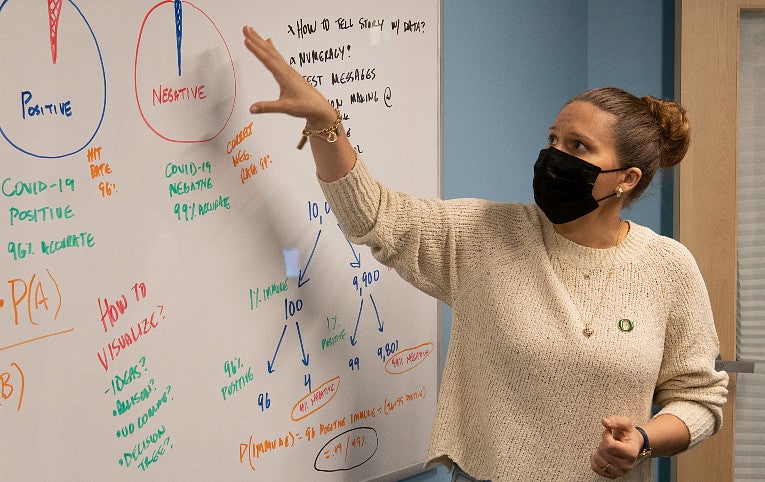 Research mentors can change lives by providing a glimpse into the power of research, and assist students to make the transition from classroom learning to real world application.
Students can add value to a research project through their contributions and unique perspectives.
Mentoring young scholars can be personally fulfilling, enrich faculty research and shape the next generation of change-makers.
Presentation of research findings by undergraduate students can be particularly effective in reaching a wide-ranging audience.
Incorporating undergraduate students into research projects can increase productivity, and be beneficial for grant proposal competitiveness.
Key resources for faculty mentors
University of Oregon resources
Promoting diversity, equity and inclusion
Additional external web resources