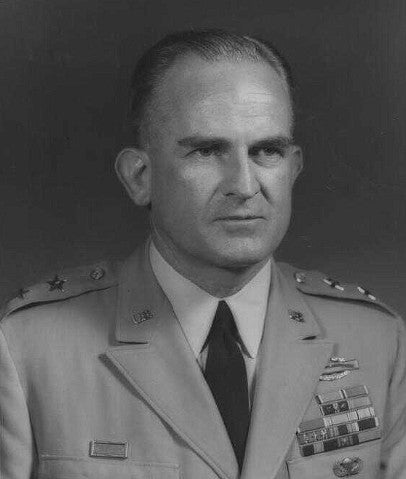 General William Bradford Rosson 
(August 25, 1918 – December 12, 2004)
Rosson obtained his bachelor's degree in Business Administration from the University of Oregon in 1940 which earned him membership in the National Honor Society, Phi Beta Kappa. He was also a member of ROTC, Scabbard & Blade (military honor society), Beta Gamma Sigma (business administration honorary society), and Beta Theta Pi (fraternity). Additionally, he played golf on the freshman team, and was a member of the band. He excelled in military education and received recognition as both an outstanding freshman cadet, and top junior cadet. During his senior year he was appointed the highest ROTC rank of cadet colonel, and received national recognition as a recipient of the General John J. Pershing Award.
He was then commissioned a second Lieutenant, through ROTC, in the Regular Army in 1940 and saw combat in World War II, earning the Distinguished Service Cross for valor on the Anzio Beachhead in Italy. He also fought in North Africa, Sicily, France, and Germany. After retirement from the military he earned a Master of Letters degree in International Relations from New College, Oxford University in England. His military schooling includes the U.S. Army War College and the National War College.
Major command experience for Rosson includes Commanding General for Task Force Oregon (Provisional), Commanding General for I Field Force, and Commanding General, Provisional Corps, for the U.S. Military Assistance Command, Vietnam. Later he was Deputy Commander for the same command. Rosson concluded his career in 1975 as Commander in Chief of the United States Southern Command in Quarry Heights, Panama Canal Zone.
In addition to the Distinguished Service Cross, the nation's second highest decoration for valor, General Rosson's awards include the Distinguished Service Medal, the Legion of Merit, the Bronze Star, and the Purple Heart and the Doughboy Award, the infantry's highest award.
Rosson, a great soldier at 25, also was an impressive staff officer at that age, said Gordon Rudd, a military historian who teaches at the Marine Corps Command and Staff College. "He was not a Westmoreland, he was not a MacArthur, he was not a high-profile guy. . . . He was more like Omar Bradley, who was a soldier's soldier."
In World War II, he fought in 10 campaigns with the 3rd Infantry, in such locales as North Africa and Germany.
After the WWII, while working in Europe under Bernard Montgomery, the British field marshal, Rosson noted that Montgomery was wearing all of his 38 ribbons. According to a story that made the rounds of NATO headquarters, Montgomery then asked each officer in the room, in turn, how many ribbons he had earned. Rosson, who had no idea how many awards he had, answered, "Thirty-nine." Montgomery left the room in a huff, and the American's popularity with British staff officers soared.
He moved to Salem, near Roanoke, in 1984, after he married Bertha Mitchell Rosson, and became involved with the National D-Day Memorial efforts.
"He was a great, strong supporter. He was a great man for detail," said William Bagbey, the founding chairman of the foundation that built the memorial. "Of course, he was not one who pushed himself to the front, but he did, by his actions, get very much to the front."